This is Version 2 of the JamMan Looper Manager. It now runs as a web app on your local machine!

The code for this is still C# but now runs on .NET Core.  There are two options - a command-line version (for the very brave) and a localhost web application for the rest of us!
Stay tuned - I will likely make minor changes and possibly document some things.
If you still have an older machine running version 1 of the software it's still available here. That version doesn't seem to work for me anymore. It may still work on Linux and/or Mac, but not on Windows.
Version 2 Photos
Written in C#, the tool now runs as .NET Core code. There's a Blazor web application front-end.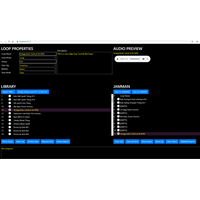 I wrote and produced this song in a week during the world-wide covid-19 pandemic.
Be safe. Help others to be safe.