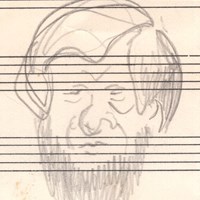 The following are notes about my various CAP (Composing and Arranging Program) recordings at the Dick Grove School of Music.  I extracted eighty distinct mp3s from tape archives of my 1986 playdowns as a CAP student at Grove which included additional contemporaneous tracks of songs/instrumentals that I somehow found time to write while at Grove.  It was a richly creative time and the kind of educational experience that continues to shape and inform me to this day. My reflections are far from comprehensive but will hopefully give you a sense of the incredible journey Grove was for me and my CAP classmates. I'm offering up some insights into what it was like at Grove during this time, capturing a blend of my own observations and experiences, personal recollections of Dick Grove, memories of various interactions with fellow students and staff, a dash of musings about some of the musicians that graced these recordings, some details about the classes, some random diversions, and fragmentary traces of the wonderful friends and associates that all came in and out of the doors of the Dick Grove School of Music. Read my complete Grove/CAP Notes here!
Rob Birdwell (CAP Grad)
This was my very first CAP playdown at the Dick Groove School of Music. By this point - a few weeks into the term - Dick had us all speaking the same musical language in terms of how to phrase, write an intro, ending and write the "core" of the chart. Dick supplied us with mountains of printed materials. We all had his book "Arranging Concepts" and he referred to it daily. There were other materials and exercises too that he would assign. Right out of the gate, Dick prepared us for what would be an amazing adventure - it would be very hard. We would lose a lot of sleep. Some students would lose their wives or husbands or partners as the demands of the school were so intense. Other students would simply drop out for a variety of reasons...
Ever wonder what a CAP recording session was like at the Grove School of Music?  The "final" was a bit extra-ordinary in that the staff recorded video, but the sound team always captured the audio for every session.  This is the video for my final project session - the culmination of a year of learning from Dick Grove and his amazing team.
The following link to a PDF contains over 60 scanned pages of notes, assignments, grades and miscellaneous stuff from my time at the Dick Grove School of Music:
The PDF includes grades from my CAP terms 2 & 3, several chart playdown critiques by Dick Grove, a few part and score samples, early sketches, contour guides, lyrics, chord family notes, assignments, a "todo" list, some classwork scores (probably from David Angel's film class)...and finally, notes I took from select CAP guests, which included: Joe Harnell, Richard Markowitz, Mundell Lowe, Bill Holman, Billy May, Allyn Ferguson. 
Pardon my spelling mistakes in my notes - I was taking notes for my own reference. There are some great quotes, tips and some of my observations of the CAP guests.  Two things I'll say: Billy May's score examples were works of art and Bill Holman drove a red Alfa Romeo.  Enjoy!
CAP Class 1986,  January - December
These are my best recollections of who was in our class. I've forgotten some names, but can picture just about everyone's face and/or their personalities even to this day. We were a diverse crew and came to really appreciate each other as we were all in the CAP boat together. We were a bigger class to start with - I don't recall those who may have dropped out as this would have been during the first quarter. but these are the folks that hung on through this very tough but amazing year:
Rob Birdwell (me) - just a guy that dropped out of college after two years to go to Grove!

Wade Marsten - my songwriting partner after Grove from 1987 to around 1990/91 - Bird from Mars - we released a CD of some of our best songs called "Two Voices".  Writing together was a great way to stay creative after Grove and continue our craft.

Michael - piano player, from Canada, took me for a ride on his motorcycle - gave me a Clare Fischer tape! He's the guy that tossed is Grove notes/books/papers at the end of the year! A very talented guy, curious what he did next!

Suzette - Rob's & Jeff's neighbor at Magnolia Boulevard apartment complex directly across from ours. She's in a couple photos - really enjoyed knowing her...we'd see each other often as neighbors...I should have kept in better contact with her. During Grove she was super dedicated and worked hard. And I remember her final project as sounding beautiful. I think she had a small piano and we were both hacking away at charts at the same time.

Evo (?) - nice guy, helped me name one of my charts in Spanish but he himself may have been Portuguese.

Lilly - very nice person, quiet but assertive and determined, and her final playdown as after mine, as seen on video.

Julie - went on to big music things I believe - always super nice and down to earth.  Seemed to care about everyone in the class and was a very hard worker and great writer.

Younger Woman - LM's GF at the time, she was about my age, very talented writer and always nice. She liked Jazz and INXS - I remember hearing her singing along to "What You Need" and I was hooked too.

Dan (?) Younger Lanky Guy - made his own MIDI cables, very resourceful, formal/polite - we were in contact a bit after Grove. I visited his place - was very ambitious.

French guy #1 - spiked hair - how I wished I was as cool as him. Very serious student and good sense of humor and hard worker

French guy #2 - darker hair - he's in one of the pictures, always friendly - I think he was friends with guy #2 but I could be mistaken.

Canadian Guy - beard, dry humor and nice guy - was maybe in his 40's during Grove. Summarized our CAP year by saying, "Well, at least we've all learned how to write great melodies."

Dark Haired Business Guy - one of the few using a computer to try to print parts/scores (guessing late 30's or early 40's)

Lisa M. - friend of PS (of D. Letterman) she drew Grove caricature(s) for me as a birthday present - one of my underwear showing, and one of Dick as a ZZ Top guy (funny stuff!) - saw her on Facebook and I believe she is still very active in music/arranging.

Di - I have a recording of one of his arrangements presumably because he forgot his tape, so I loaned him mine.  Nice guy - his arrangement was great!

Elise M. - a CAP student a semester ahead mentioned she was in our class - I do have a memory of her and if it's correct I think she always sat in the front of the class, while I mostly sat in the back.
Fabio M. - yes, I remember you! Lisa M. reminded me...of course, fabulous trumpeter!
SUMMARY
"What is past is prologue." - William Shakespeare
The Dick Grove School of Music was an incredible experience for me and I am so grateful. I realize it was different for everyone, but for me and at the age I was, it was exactly the program and the challenge I needed. Something was missing for me in college and that's why I dropped out after two years. It was actually Dan Bukvich, my composition teacher at the University of Idaho, who showed me the Dick Grove School of Music promotional brochure and said it was something I might want to look into. Maybe he meant "after" I'd finished up my coursework there. But after I looked into Grove further, it seemed like something I wanted to be a part of right away. I worked multiple jobs from the summer of 1985 until driving to L.A. after January 1, 1986. I'd gone through some of the CAP pre-course materials and was excited about the way the music theory and exercises were presented, logically and for a practical purpose.
During the summer of 1985, probably August, we took a family trip to Disneyland. My father grew up in California and was happy to show me and my mom some of his old stomping grounds, which were mostly in the Orange County area. We made a short detour to visit Grove during this time. My dad, usually very good at navigating everywhere, got lost for a bit, but we finally found the school. My mom, dad and myself all went into Dick's office and he took the time to chat with us and talk about his school. Meeting Dick in person and hearing him speak in broad terms about what to expect during CAP was amazing for me and I'm pretty sure my mom and dad were impressed as well.
It was a transitional time - I was twenty years old, had been on a partial collegiate swimming scholarship for one year, and had some music scholarship money my second year. I enjoyed the college experience, but so much of it seemed like a waste. Although I was a decent student, studying economics, anthropology, or literature just wasn't what I wanted to put my time and energies into during that time. Grove seemed to offer everything I had hoped traditional college would be - an intensive focus on everything related to the craft of composing and arranging music.
I would end up staying in L.A. until late spring of 1994, not long after the Northridge earthquake. By then my wife and I had two young daughters. I'd made a lot of music in L.A., but it was clear that I wasn't going to be able to support my young family as a composer or musician alone. I wanted to go to work for Dick Grove a couple years prior, but by that time his expanded school in Van Nuys was going out of business. I'd recorded one CD with my songwriting partner, Wade Marsten, but prospects were slim. In 1991 I was awarded a full-ride scholarship to UCLA but the commitment to the music program would have put enormous stress on our young family, so I grunted out my days working for lawyers and by night I practiced my trumpet, wrote songs and kept dreaming. In 1992 I recorded "Heroic Music" with the Los Angeles Composer's Guild - it cost me $1200 for 15 minutes of time with a 57-piece orchestra but I was determined to make a good demo. I was able to successfully use my Grove composing and arranging skills at Evergreen Studios in Burbank. The audio was recorded on DAT and it's very likely that some of the players on that session were also Dick Grove alumni. I even played a bit of trumpet on one of the sessions for fun.
To be successful in this music business, I was going to need an angle. That's simply another way of saying I was going to need some sort of day gig to support my family and hopefully provide me with some time to keep making music in my spare time. My boss, James R. Gillen, Esq., bought me a computer as part of some payment to get his office systems and processes to be more modern - that computer came with some software called Borland which was a software development tool. Over time, I began to explore computer programming. It was very addictive and there was a creative aspect to it that was similar (but not the same) as writing music. With some serious dedication and the help of a family friend and mentor (Dean Wills) I became skilled enough to get my first professional programming job. By June of 1994 I was offered a job with PenMetrics and my family and I moved to Corvallis, Oregon. I would be a C++ programmer for several years, work for Hewlett-Packard, and finally settle into a longtime senior software developer job with ProWorks.
I would start using Finale music notation in 1995 even though I spent eight months trying to write my own notation software. I would get to know other musicians in town. I would draw the attention of Maestro Marlan Carlson who would encourage me and give me many extraordinary opportunities. Soon I was playing gigs and making some noise as a trumpet/flugelhorn player; soon I was conducting pit orchestras; soon I was guest conducting the Corvallis-OSU Symphony and the Corvallis Community Band which played some of my original compositions and arrangements. By 1997 my wife and I had a son and were the proud parents of three children! In 2000 I created a piece of software called Virtual Trumpet which actually sold, not a lot but enough to make things interesting. I also released a CD of trumpet/flugelhorn licks and samples called "Real Trumpet". By 2003 I was teaching a middle school jazz program twice a week in the morning before I went to my regular job. By 2006 I was voted "Best Musician" by the local paper (not true, but I'll take it - it was based less on my "virtuosity" and more on my "versatility", playing, conducting, teaching, software, etc.). I would go on to release several CDs of my original songs - with hopefully many more to come!  By 2009 I was again guest conducting the Corvallis-OSU Symphony in a series of Harry Potter concerts, and composed "A New Day" for symphony orchestra and big band, in honor of President Obama. By 2011 I conducted the Chris Botti pops concerts and in 2012 I conducted and arranged for the Halie Loren pops concert. I would travel to Macua, China with Halie and her band later that year. And all this time I was gigging, playing my horn, teaching, working, being a dad, a husband, a son, and an employee. By 2015-2016 I would write a dozen charts for pops orchestra, 10 of them featuring vocalist Katie Smith - these charts would be some of my finest arranging and orchestrating - the culmination of many things - but around this time I also realized the trappings of arranging other peoples' music and have now set out on a longer term commitment to focus more on my own music and songs.
I still managed to keep swimming after all these years and in 2017 would compete in my first Masters Swimming meet. I would write horn charts and record with Creighton Lindsay, The Svens, Dave Storrs, Halie Loren, and others. I'd write tunes for a multitude of local groups and make wonderful friends: 5th & B, Sideways Portal, LMNO, and numerous ad hoc projects. I'd perform at the Country Fair with the Sugar Beets and The Nettles - and all of this would lead me to this moment.
Looking back into the past is not easy. There's a tendency to romanticize experiences or place too much meaning on select events. And yet a cursory listen to any of my Grove CAP recordings will evoke - or should at least - several "holy shit" moments! I was fortunate to be in CAP and soaked in so much of what Dick Grove and his team taught. Dick was preparing his CAP students for the future; a future he knew would be very different from the world he wrote, taught, and performed music in. But he also knew that regardless of how much styles, tastes, and technology changed, the art and craft of writing music would always involve how to put two notes together.
When Dick recommended to us CAP students to go back to our home towns and "TAKE OVER" many of us probably did just that, at least the going back home part (or simply making a new home outside of L.A.). Whether or not we managed to make a lucrative living from writing music is perhaps less important. Taking charge of our lives, finding avenues for creativity, building musical relationships with other writers and performers are just some of the ways we all managed to "take over." I'm listing some of my own "take over" mantras that I strive for to varying degrees:
Be kind to yourself.
Maintain an open mind and heart.
Begin that song, lyric, score or project today - whatever it is, begin.
Strive for excellence.
Be bold.
Be brave.
Be humble.
Take interest in the work of your peers.
Never stop learning - be curious.
Give back to others and the community.
Thank you Dick Grove - for your teaching, for your unique genius, for your compassion and the influence you have had, and continue to have, on so many.